I know... I know...
Laundry room reno is not next on
THE LIST
yet!!
THE RENOVATION LIST
Office/Sunroom
Formal Dining Room
Bedroom #2
Family Room
Guest Bathroom
Living Room
Bedroom #3
But it's so hard not to look at some inspiration! The problem with ours is that it has no windows...so it just feels dark in there. (yes, even with the white paint!) I want a crisp/clean feeling. I also want a lot of storage space and a way to organize Matt's dirty filthy work clothes. Here is a before picture:
It's mess is extremely embarrassing...but it also adds to the suspense of the after picture (which won't be for awhile due to my obsessiveness with keeping to THE LIST). We'll need some crisp white cabinets up top and bar for drying over the sink. Another bar on the far side to hang cloths for ironing or Matt's clean work shirts. I also want to figure out a nice way to hide the piping and outlets behind the washer & dryer. Gotta find a cute trash can to put under the sink too! (For the dryer sheet and lint!) So with all that "must-have" in mind... here is some inspiration to play with!
I like this laundry room a lot because it's basically the exact layout of ours! I love the drying rack over the sink, the task lighting and the crisp white cabinets. Room needs some color though... pale yellow?
I feel like I'm projecting because I don't have a window!!
I like the yellow color of this room. I think that's the shade I'll try to hit. That's pretty much all the inspiration I got from this one. (Hm... that looks like our set of W&D...sweet...I hope I get a front-loader set for Christmas!) And what's with all the Charmin toliet paper?!...awkward.
Oh my gosh... Loving this! Especially the mini-spill back-splash! Our flooring is a tan linoleum (<--I have to say that really slow) faux tile look. But if I did the yellow walls... and a tile like one of these?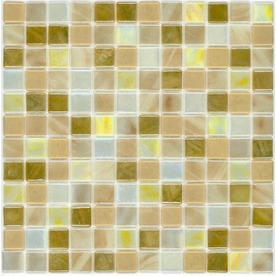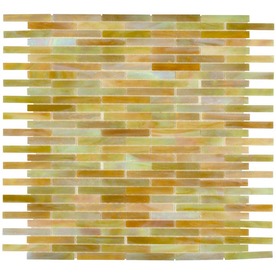 Ok, this just became a must-have! I'm feeling the last two more (Lowes). I also love the idea of bead boarding (wainscoting) on the side opposite of the W&D. I think it would protect the wall better from every day wear and tear. And one day... one day in the near future...I will make nicely suggest that Matt install a new door with a fogged glass. Similar to this one: (HGTV)
But that's for later on down the road with renovating the laundry room is time! :)
Stay tuned...and I'd love to hear some feedback on other inspirations!